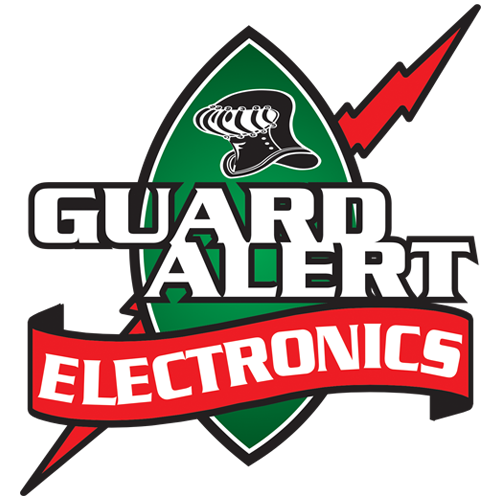 Guard-Alert Electronics
Guard Alert Electronics (GAE) caters for the dynamic and evolving electronic security needs of industry and home, and strives to pioneer innovation in the installation of features such as 24 hour Rapid Response service, panic alarms, camera surveillance systems, access control systems, electric fence installations and vehicle satellite tracking.

Guard- Alert Electronics (GAE) caters for the residential and company premises electronic security requirements. They offer installation, back up and repairs of the following equipment:
Rapid Response– Guard Alert Electronics offers reaction in over 26 Guard Alert Centres around the country. Our Rapid Response team is able to dispatch a dedicated vehicle within a few minutes of an alarm going off and this is controlled from our 24-hour control centre.
Installation of a Rapid Response Radio is FREE where there is already an existent alarm system and the service carries with it an affordable quarterly rental charge.
Guard Alert Electronics also offers the SMS Rapid Response to complement its Radio link Radio Response System whose main advantage is that it is not limited by geographic spread and location unlike the Radio Link system. The SMS Rapid Response can therefore be used wherever there is telecommunication signal from any one of our three mobile network operators.
Closed Circuit Television more commonly known as CCTV allows the owner of the premises to record images by camera and monitor them without necessarily being present physically.  The images can either be viewed via the monitors in real time- as they happen- or post the event by looking at the recorded footage. GAE is capable of custom designing and installing different cameras to carry out this range of security surveillance.
Access Control utilizes technology and procedures to manage who is able to go where and when, restricting entry to a specified area to authorized entities only. Common access control applications include: boom gate systems, access doors, mantraps and turnstiles.
Electric fencing- Guard Alert Electronics offers a wide range of fencing applications for commercial, industrial and residential- wall top fencing and stand alone fencing. The electric fence can be linked to the premises alarm thus alerting the owner of any potential breach. This can also be linked to the 24 hour controlled room ensuring quick reaction when needed.
Satellite vehicle tracking- Pinpoint Tracking is Guard-Alert's satellite vehicle tracking division. Offering services such as real time tracking and historical playback which enables the user to have a knowledge of the vehicle's location at all times; reports generation so that the vehicle  or fleet owner knows the distance travelled, trips made, stoppages made including service reminders, the system allows the owner to have full control of his  asset. Other additional services include fuel management which allows the vehicle or fleet owner to monitor fuel usage thus avoiding fuel theft. Optional features include a panic button linked to the Guard-Alert 24 hour manned control room as well as an immobilizer.
After sales support
Maintenance contracts will include:
The frequency of maintenance required
Whether the maintenance is undertaken remotely or on-site
Specific requirements of such maintenance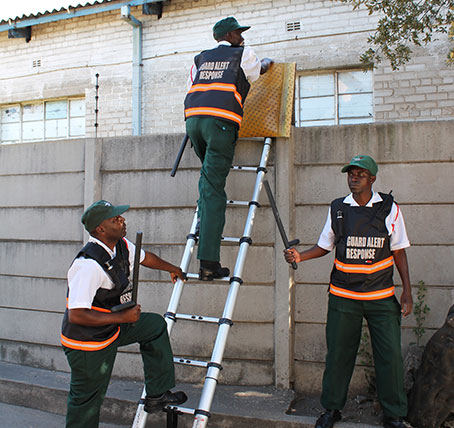 Services
Intruder alarms- internal and external including beams
Access control, card reader, biometrics
Electric fence- domestic and commercial
Electric gate motors
CCTV with Digital Video Recording (1000 GB Hard Drive) using  Infra Red, Box, Bullet, Dome or Covert cameras
Rapid Response Service
Remote Arm/ Disarm and Panic Buttons with Gate remote on the same remote (up to 4 buttons per button)
Vehicle Satellite Tracking